In the introduction to the book" a la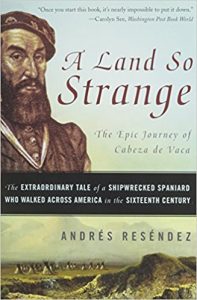 nd so strange", the writer Andres tells the readers the importance of the story of Cabeza de Vaca who, with other three people, two Spaniards and one Estebanico, has done a great oddesey. The story is of importance because of the fact that it gives the people a brand new persecutive of how the Spanish implement the humane colonization on the native Indian people. And it could be served as a genuine historical source. Though, the voyage was popular and well-known in America and Europe hundreds of years ago, it does lose its reputation since then. The reason for declining fame is due to the reason that there is no context for people to understand and to read like a fiction. Indeed, it is of great importance and the writer is trying to bring it back to what the voyage was like hundreds of years ago. 
The introduction is quite engaging and important. The story of oddseyy could offer a brand new insight and ideas into what it was like in 16th century, instead of being forgotten and causing modest impact. When I finished the reading, I could literally feel the urgency to read the following chapters and start to explore the 16th century world.