The rights of Indigenous peoples in Latin America
The prevalence of baseball in Latin America, specifically the Dominican Republic
With the first topic, I look to continue researching what I learned from the article I focused on for my Noticias post. Many groups of indigenous people are being discriminated against, or their rights are being infringed upon. I want to learn more about the different groups of indigenous people who live in Latin America and which Latin American countries do the best job of protecting the rights of indigenous peoples (and alternatively, which countries do the worst jobs). Below this paragraph I've included a link to the article I read last week for my Noticias post, as I think it provides a good starting point for this topic.
www.nytimes.com/2017/09/10/world/americas/brazil-amazon-tribe-killings.html?rref
With the second topic I'd like to investigate how baseball (often referred to as "America's pastime") came to be such an important part of Dominican culture. This is particularly interesting to me because I'm a big fan of the Cleveland Indians, and we have several Dominican players on our team, such as Edwin Encarnacion, Jose Ramirez, Carlos Santana, and Danny Salazar. I've begun researching it already and have several sources that can be used for this topic, and I'll include a link to one below.
https://www.britannica.com/topic/Latin-Americans-in-Major-League-Baseball-910675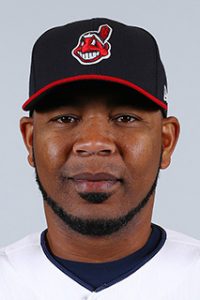 Pictured is Edwin Encarnacion. Roll Tribe