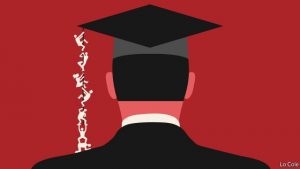 https://www.economist.com/news/americas/21722867-region-has-had-boom-universities-now-it-needs-make-them-better-latin-americas?zid=305&ah=417bd5664dc76da5d98af4f7a640fd8a
In the article "Latin America's Campus Revolution" I read about how areas in the Latin American region have established better higher education opportunities. Though dated from the summer of 2017, the article mentions that the problem with higher education in these areas was a problem at the beginning of the century and the improvements being made are still incredibly relevant today. The article looks into the campus revolution through the eyes and experiences of current student César Huamán.
César Huamán is a current student at one of the new private universities in the area. Human and his family all contribute to the costs of education which adds up to approximately $137 a month. Huamán's family says that they don't mind paying the price because they want "to have a professional in the family, even if it's only one". This quote genuinely surprised me because where I grew up in the U.S. seniors in high school were, for the most part, expected to go to college after completing some form of high school. I think that this expectation is so widely spread in the U.S. because there is a wider variety of schools in North America. I find this article interesting because I had never really thought long and hard about higher education and universities in Latin American countries, so to hear a mother saying that she wanted at least one professional in her family was really off putting to me and a moment of realization that the access to education is not the same throughout the world.
The article applauds the growth of universities in the Latin American region, however, it discusses that the education is still not up to standards. There are still many problems with the education system including that there are few engineering and science students, and the poor-quality education that the newer institutions provide. Due to this fact, higher education is risky for many Latin American students because their families try to pay the high tuition and costs, but the student does not receive an adequate enough education  for the money to be worth it. Thus discouraging the idea of students attending a University at all.