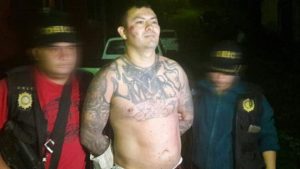 http://www.bbc.com/news/world-latin-america-41619802
A man believed to be a leader of the Mara Salvatrucha (aka MS-13) gang has been arrested in Guatemala recently. Ángel Gabriel Reyes Marroquín, or Blanco, as he is known, was found in a town 31 miles west of Guatemala City called Chimaltenango. Reportedly, Blanco was wanted for his involvement in an armed attack on a hospital two months ago. According to the article, Blanco and his fellow gangsters were attempting to liberate another one of their leaders, who was being treated at the hospital "under armed guard" of the Guatemalan police. Later, the article goes on to describe Blanco's criminal history. In 2014 he was reportedly detained in a maximum security prison for charges that included murder, and furthermore, he is believed "to be connected to the deaths of at least 287 people". However, he was able to escape and was not recaptured until now. The remaining parts of the article give a brief description of MS-13 and their crimes.
The existence of MS-13 itself reflects negatively upon Latin Americans. Although the gang was created in Los Angeles, it has its roots in Central America, specifically El Salvador, Honduras, and Guatemala. MS-13 is known as one of the most brutal gangs in existence, and they operate internationally. The fact that pretty much all members of MS-13 are of Latin American descent portrays Latin Americans in a negative light. However, I'd say that the article is hopeful. The fact that an important leader of MS-13 has been captured recently by Guatemalan police shows that MS-13 does not have complete control over Guatemala. More importantly, however, it shows that MS-13 is not a good representation of Latin Americans and their culture. I believe it's safe to say that nobody likes MS-13 other than its own members. If Americans don't like MS-13, how do you think Latin Americans feel about the gang? The same can be said about Muslims and ISIS. When a person or group is doing something that is giving your people and culture a bad name, you probably won't like them, because the few extremists give the peaceful majority a bad name and a poor identity. Finally, I would say that the article shows that Latin Americans are doing their best to cope with and end the gang violence and crime that has such a strong hold on several Latin American countries.
I think it is also important to note the American perspective of MS-13 and the gang violence in Latin America. Many Americans are fearful of traveling to certain Latin American countries for fear of gangs, with good reason. Some people may look at the gang violence in places like El Salvador and believe that all Latin Americans are inherently violent people. However, I would hope that Americans who read this article are able to differentiate between the few violent gang members and the peaceful majority of Latin Americans who detest the gangs as much if not more than Americans.